Do the Quiz, have fun and win!
You have received our February 2019 newsletter "The Monthly Brief: Chemical Solutions for Laboratories and Process Lines". If you haven't just quickly subscribe to it here!
Even if you didn't – You still can get the answers by following the links in the questions below.
Congratulations to Ms Kanjana Kanjanaudom, the winner of the Metrohm January 19 Quiz! Here are the correct answers from last month: 1) Chemical oxygen demand (COD), alkalinity, oxyhalides and heavy metals. 2) Screen printed carbon electrode (SPCE) with polypyrrole (Ppy)-SiO2. 3) 892 Professional Rancimat
Metrohm Siam February 2019 Quiz
Here are our 3 questions for the February Quiz:
(Tip: Follow the links in the questions to find the answers 😀  )
First question:
Metrohm's MARGA monitors aerosols and xxxxxxx on-line 24/7.
a) Foodstuff
b) Inorganic atmospheric gasses
c) Pharmaceutical compounds
Second:
Metrohm's OMNIS is the high-end titration system that can be greatly extended. It can analyze up to XXX samples completely unattended on seven racks!
a) 70
b) 140
c) 175
Third:
Metrohm Autolab's DuoCoin Cell Holder with EIS performs measurements on…
a) Asphalt
b) Commercial batteries
c) Ambient air
Got the answers?
Jump to the bottom of this page, click on Quiz and tick the correct responses!
Have fun and win!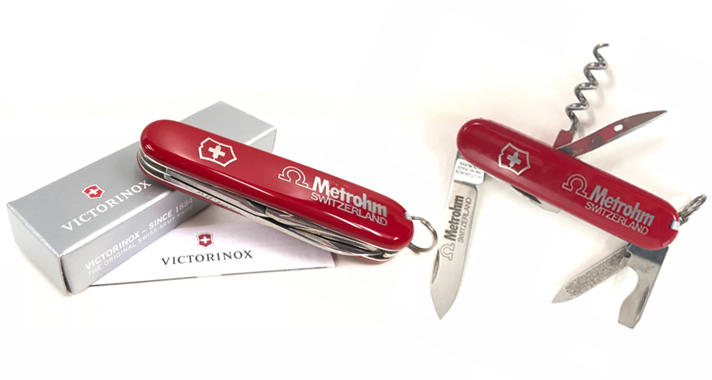 This original and practical Victorinox Swiss Army knife could be yours!
Note: This quiz closes on March 10, 2019, midnight Thailand time!