Do the Quiz, have fun and win!
You have received our April 2019 newsletter "The Monthly Brief: Chemical Solutions for Laboratories and Process Lines". If you haven't just quickly subscribe to it here!
Even if you didn't – You still can get the answers by following the links in the questions below.
Congratulations to Mr. Prakit Piya-asawajinda, the winner of the Metrohm March 19 Quiz! Here are the correct answers from last month: 1) Raman spectroscopy 2)THB 1,970,000 3) Anions and oxyhalides
Metrohm Siam April 2019 Quiz
Here are our 3 questions for the April Quiz:
(Tip: Follow the links in the questions to find the answers 😀  )
First question:
Which instrument was used to determine pHe in Titration Application Note T-173?
a. 913 pH meter
b. 912 Conductometer
c. 917 Coulometer
Second:
The Metrohm system for conductivity testing according to USP<645> provides a fully automated solution. What is the name of the software that performs conductivity testing in whole series of samples completely unattended?
a. NOVA software
b. tiamo software
c. vision software
Third:
Which method is used to find halogens and sulfur in LPG according to ASTM in Application Note AN-CIC-023?
a. Potentiometric Titration
b. Ion Chromatography
c. Karl Fischer Titration
Got the answers?
Jump to the bottom of this page, click on Quiz and tick the correct responses!
Have fun and win!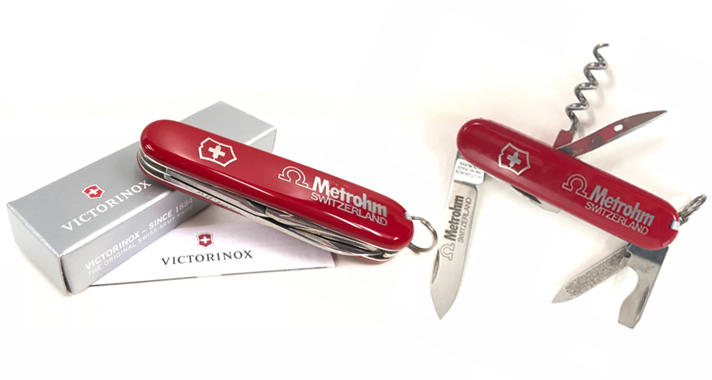 This original and practical Victorinox Swiss Army knife could be yours!
Note: This quiz closes on May 10, 2019, midnight Thailand time!